Sign In
|
Register
|
Help
Specials
Cart
0
items
★

Share your review of this book and be automatically entered for a chance to win $50!
---
GLOSSARY
Some terminology that may be used in this description includes:
tight

Good

head

gilt

rubbing

spine
The Illustrated Family Bible: Being Old and New Testaments According to Authorised Version, Many Hundred Wood Engrawings Representing Historical Events After Celebrated Pictures Landscaping Scenes from Original Drawings ----- IN TWO VOLUMES
by Kitto, John; Canon Birks ( Series of Introductions )
London / New York: James Sangster and Company Two volume set Family Bible published in London. Undated, by appearance and years of John's Kitto life must have being published not later than 1860s. Volume one has 1238 pages, volume two - 1202 pages. complete title of Bible is: THE ILLUSTRATED FAMILY BIBLE: THE OLD AND NEW TESTAMENTS ACCORDING TO THE AUTHORISED VERSION: WITH MANY HUNDRED WOOD ENGRAVINGS: REPRESENTING THE HISTORICAL EVENTS AFTER CELEBRARTED PICTURES; THE LANDSCAPE SCENES, FROM ORIGINAL DRAWINGS, OR FROM AUTHENTIC ENGRAVINGS; AND THE SUBJECTS OF NATURAL HISTORY, COSTUME, AND ANTIQUITIES FROM THE BEST SOURCES. TO WHICH ARE ADDED ORIGINAL NOTES, BY JOHN KITTO, D. D., F. S. A., CHIEFLY EXPLANATORY OF THE ENGRAVINGS, AND OF SUCH PASSAGES CONNECTED WITH THE HISTORY, GEOGRAPHY, NATURAL HISTORY, AND THE ANTIQUITIES OF THE SACRED SCRIPTURES AS REQUIRE OBSERVATION.... WITH A SERIES OF INTRODUCTIONS PREFIXED TO THE VARIOUS BOOKS OF THE OLD AND NEW TESTAMENTS, BY REV. CANON BIRKS, M. A. VICAR OF HOLY CAMBRIDGE IN TWO VOLUMES. Many hundred of the highest quality illustrations ( wood engravings ) reflecting all aspects of social life and natural history of Holy Land of Bibic times. Clean pages, tight binding ( except couple of pages showing very light partial loosiness at the beginning of volume two, still tight copy). Gorgeous illustartions - wood engrawings of the highest quality - reflects practically all aspects of life back in a Biblic time, including scenes from Bible, related to the life of Christ, historical events of Biblic time, natural history, costume, daily life, antiquities, sacred scriptures, etc. All pages are clean, book is bound in thick genuine lamb leather with emboded golden gilt patterns on both hard cover boards and spines, golden lettering and four rised rings on the spine, edges of content are golden gilted. Hard cover has only very light, minor rubbing and overall this is suprisingly well preserved copy. This Bible is classical example of Family Bibles family. Includes Old and New Testaments, commentary on both of them, and is illustrated with the highest quality illustrations. This is what Wikipedia says about author JOHN KITTO: Born in Plymouth, John Kitto was a sickly child, son of a Cornish stonemason. The drunkenness of his father and the poverty of his family meant that much of his childhood was spent in the workhouse. He had no more than three years of erratic and interrupted education. At the age of twelve John Kitto fell on his head from a rooftop, and became totally and permanently deaf. As a young man he suffered further tragedies, disappointments and much loneliness. His height was 4 ft 8 in, and his accident left him with an impaired sense of balance. He found consolation in browsing at bookstalls and reading any books that came his way. From these hardships he was rescued by friends who became aware of his mental abilities and encouraged him to write topical articles for local newspapers, arranging eventually for him to work as an assistant in a local library. Here he continued to educate himself. One of his benefactors was the Exeter dentist Anthony Norris Groves, who in 1824 offered him employment as a dental assistant. Living with the Groves family, Kitto was profoundly influenced by the practical Christian faith of his employer. In 1829 he accompanied Groves on his pioneering mission to Baghdad and served as tutor to Groves's two sons. In 1833 Kitto returned to England via Constantinople, accompanied by another member of the Groves mission, Francis William Newman. Shortly afterwards he married, and in due course had several children. A London publisher asked Kitto to write up his travel journals for a series of articles in the Penny Magazine, a publication read at that time by a million people in Britain, reprinted in America and translated into French, German and Dutch. Other writing projects followed as readers enquired about his experiences in the East amidst people living in circumstances closely resembling those of Bible times. Kitto had been a careful observer of physical detail of the topography, the animals, architecture, agricultural methods, the manner of interaction between people. His retelling of Bible stories in the light of what he had seen brought the narratives to life and confirmed the accuracy of the ancient texts. He showed how the activities described by the prophets and apostles accorded with the realities of Eastern culture. He supplemented his own observations with details from the journals of other travellers, and helped the Bible reader to understand many things previously obscure or contradictory to the Western mind. His careful research into the geography, biology and archaeology of Bible lands served to support and encourage confidence in the accuracy of the Bible. In his generation Dr Kitto was a most significant contributor to Christian scholarship, and he provided much help for Evangelicals defending the Bible against the attack of liberal critics. He eventually wrote a total of twenty-three books, of which Charles Spurgeon considered the Daily Bible Illustrations to be "more interesting than any novel that was ever written, and as instructive as the heaviest theology." Inevitably, Kitto's encyclopedic works have been superseded by the researches of later generations of scholars. Yet his Pictorial Bible and Cyclopaedia of Biblical Literature held, for almost a century, a unique and valued place on the academic library shelf, and his Daily Bible Illustrations encouraged the faith of readers of all ages and backgrounds, and stimulated the imagination of many a Sunday school teacher. The sensible style that made Kitto so popular can be seen in this brief passage, written at a time when attempts to reconstruct the design of the Temple of Solomon on paper, in scale models, and in the architecture of churches, synagogues and Masonic Halls was a serious scholarly pursuit: These descriptions (found in Kings and Chronicles) enable us to realize a tolerably clear idea of many important details of this glorious structure; but they do not suffice to afford us a distinct notion of the architectural elevation of the principal buildings. If any proof of this fact were wanting, it would be found in the circumstance that almost every scholar or architect who has attempted to make a design of the fabric, from the description which exist in the Scripture and in Josephus, has furnished something very different from what has been produced by others making the same attempt. John Kitto summed up his life with the following words: "I perhaps have as much right as any man that lives, to bear witness that there is no one so low but that he may rise, no condition so cast down as to be really hopeless, and no privation which need, of itself, shut out any man from the paths of honourable exertion or from the hope of usefulness in life. I have sometimes thought that it was possibly my mission to affirm and establish these great truths." . Hard Cover. Very Good. 4to - over 9¾" - 12" tall.
Book Details
The Illustrated Family Bible: Being Old and New Testaments According to Authorised Version, Many Hundred Wood Engrawings Representing Historical Events After Celebrated Pictures Landscaping Scenes from Original Drawings ----- IN TWO VOLUMES by Kitto, John; Canon Birks ( Series of Introductions )
Bookseller: Alexandria Books (CA)
Bookseller Inventory #:

015430

Title:

The Illustrated Family Bible: Being Old and New Testaments According to Authorised Version, Many Hundred Wood Engrawings Representing Historical Events After Celebrated Pictures Landscaping Scenes from Original Drawings ----- IN TWO VOLUMES

Author

: Kitto, John; Canon Birks ( Series of Introductions )
Format/binding:

Hardcover

Book condition:

Very Good

Binding:

Hardcover

Publisher:

James Sangster and Company

Place:

London / New York

Keywords:

" BIBLE HOLY BIBLE FAMILY BIBLE OLD NEW TESTAMENT AUTHORISED VERSION WOOD ENGRAWINGS HISTORICAL EVENTS LANDSCAPE SCENES NATURAL HISTORY COSTUME ANTIQUITY ANTIGUITIES ENGLAND UNITED KINGDOM LOCAL HISTORY RELIGION HISTORY BIBLE HISTORY PUBLISHERS PUBLI
---
Terms of sale:
Orders are shipped to customer not later than 2 business days. Shipment cost is based on book weight 2.2 kg. dditional cost may aply for oversized or extra heavy copies. Customer can return book and get money refunded unconditionally after receiving book back.
---
$ 1,317.50
FREE shipping to USA
30 Day Return Guarantee
Calculate shipping

Ask the bookseller a question
Offered by
E-mail bookseller
Biblio.com member since: 2005
Location: Toronto,Ontario
---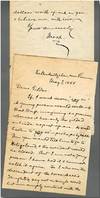 Collecting and identifying signed letters and holographic documents
Many authors and other famous literary figures wrote and signed letters by hand, and you can find a great collection of them in the Biblio rare book room. See our great collection of handwritten letters and holographic documents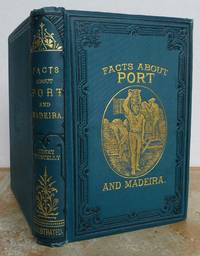 Collecting food and drink books
Nothing quite whets the appetite for rare and collectible books like old and vintage cookbooks. Be sure to check out our cook books and food section of our rare book room.