Sign In
|
Register
|
Help
Specials
Cart
0
items
★

Share your review of this book and be automatically entered for a chance to win $50!
---
GLOSSARY
Some terminology that may be used in this description includes:
Fair

shelfwear

A.L.

A.N.

Good

device

calf

reprint
PFIQ. PIERCING FANS INTERNATIONAL QUARTERLY No. 01 - No. 50; missing Nos. 2 , 21, 28 and 41
by Ward, Jim (Ed.)
Beverly Hills, San Francisco: Gauntlet Enterprises. 1977-1997. Near-complete run of PFIQ from October 1977 to the final issue No. 50 in 1997. The magazine features detailed instructions on how to pierce various body parts, including explicit serial photographs. Also interviews, photos and profiles of piercing afficionados. Illustrated with b/w photos and drawings through No. 14; color starts with issue No. 15.No. 1: 16 pp. Reprint. Cover drawing by Bud. PFIQ interviews Doug Malloy on the revival of interest in piercing, with photos of his guiche, frenum ring, and dydoe. Malloy also recounts The Story of Nils. Photos of female piercings, including Susan Mason of Australia and Anne Grey. No. 2: missingNo. 3: 20 pp. Reprint. Cover by Bud. Jim Ward's Pierce with a Pro column demonstrates the Prince Albert. Meet the Valentines, with lovely corsets and piercings. Fakir Musafar on the Clamp and Pierce connection; clamping is a natural anasthetic, found also in Borneo and other Far Eastern cultures. No. 4: 20 pp. Cover drawing by Ronin. Letters. Jim Ward interviews Mr. Sebastian about his British guiana inspired piercings, erotic tattoos, and work piercing other people. Fakir Musafar on Kavandi, with Indian and US photographs. An article reviews various historical manifestations of piercing, infibulation, kynodesme, and other news; illustrated with some anthropological photographs. Closes with a photo- illustrated letter and answer, demonstrating how this individual used a bench vice and clamps to perform a deeper-than-usual ampallang self- piercing. back cover photo are three recognizable old salts joined by their nose rings. No. 5. Cover by Bud. PFIQ interviews Jim Ward. Pierce with a Pro, photos by Charlie Airwaves, demonstrates the Guiche. Fakir Musafar photo study of Star, exotic pierced and tattoed lovely. Gauntlet finds its home on Santa Monica Blvd. Fakir on the O-Kee-Pa: Sacred Rite of the Mandans, with lots of photos of his rite that you don't usually see. This is the stuff that made us go wild when we first saw Vale's Modern Primitives. No. 6: 16 pp. Cover by Bud. The Versatile and Sensual Prince Albert, by Doug Malloy. PFIQ interviews Bernd and Elke Schobler of Berlin. Primitive and piercing rituals from around the world, illustrated with photos from Ceylon, several from the Thaipusam Festival in Southern India, Two dramatic New Guinea nose plugs, the Chidi-Mari Festival, Sarawak Borneo, Nubian girl with lip plug removed, and Lake Chad women with extreme lip enlartement. Fakir Musafar reviews the book Sundancing at Rosebud and Pine Ridge by Thomas E. Malls. No. 7: 16 pp. Cover by Bud. This issue is in memoriam of Doug Malloy, who passed August 22, 1979. Readers letters show and describe the evolution of a giant Prince-albert like penis piercing. PFIQ interviews Diana, who wears 75 rings in two piercings of each ear. Review of film by Sandy Daley with Robert Mapplethorpe and Patti Smith, entitled Robert Having His Nipple Pierced. And some b/w photographs of erotic and extreme piercings. No. 8: 16 pp. Letters, informative and fantasy-filled, including drawings for pierced nipple-stretching apparatus. Pierce with a Pro on the Frenum, with multiple photos. Jim Ward interviews Star the Enchantress, centerfold from issue 5. Two tributes to Doug Malloy, from Richard de Thuin and Jim Ward. Ethel Granger's early modern primitive piercings and corseting, by Fakir Musafar. No. 9: 20 pp. Cover by Bud. Letters. PFIQ interviews Marni, slave. Pierce with a pro covers the Labia Majora. Erotic Consciousness: A Synopsis, by Christopher Larkin. No. 10: 20 pp. Cover drawing by Bud. Letters, including drawings for cock-ring/Prince Albert penis stretcher. Infibulation by A.F. Niemoeller, reprinted from rare 1947 Haldeman-Julius booklet entitled Chastity Safeguards; illustrated with charming padlocked genitals. Jim Ward interviews and photographs Sailor Sid. No. 11: 24 pp. Letters, including an improved cock-stretching device using an ampallang and a spring. The Story of Marion, letters written to Doug Malloy in 1977 and to Jim Ward in 1979. PFIQ interviews Jim A., photos by Phil Masnick. Pierce with a Pro: The Ampallang, with step-by-step photos. Piercings for Love: The S/M Connection, by Fakir Musafar; photos of Eskimo Love Marks, Sun Dancers, Hindu Nostril Ring, Cuno Indian girl, Platter Lips of African women, Dayak locks, labial Occulsion, and labial padlocks - examined as symbols of submisison.No. 12: 20 pp. Pierce with a pro looks at Clitoris piercing. Sid Sailor interviews the incredible 'Til', illusrated with photos of his "penis inversion" process. Fakir Musafar writes I Love NY...Pierced; describing his first meeting with Annie Sprinkle. And a potpurri of piercing photos by Fakir & Jim Ward. No. 13: 24 pp. Letters, including one from bookseller C.J. Scheiner. Some clear and unusual pierced penis CBT photos. Meet Sunny, pierced nudist, describes her piercings at Gauntlet. Fakir Musafar photos and profile of A. Viking Navaro - Modern Primitive. Fakir reviews Jewels for Their Ears by Charlotte Wruck. Jim Ward reviews Charles Gatewood Forbidden Photographs. Fakir announces his book, Body Play, titled with his real name, Roland Loomis. No. 14: 24 pp. Letters. Fakir photos of Tiny & her labret. Pierce with a Pro looks at Dydoes. Kingpinned & Ringed, the Story of Jason & Janice, edited by Fakir. Jim Ward reviews The Divine Androgyne According to Purusha. Untitled piercing and tatto photos of artistic bodies; photos of Fiona. No. 15: 32 pp. With this issue begins the color photo covers. Jim Ward editorial thanking participants. The Divine Androgyne According to Purusha, reviewed by Bruce Voeller. Fakir Musafar writes a tribute to Ethel Granger. Meet Carl Carrol and his bifurcated penis. Color center spread of Zubayr & Star, plus more b/w of this lovely couple. Detal from Greg Moskwa poster depicting some of the exploits of Fakir. Periodicals of interest reviewed. Kingpinned & Ringed, Part 2. The Letters of Ellen Sunshine, Part 1 -- a sort of extreme piercing fantasy fiction, don't try this at home. No. 16: 32 pp. Color Annie Sprinkle cover. Five excerpts from DungeonMaster; various erotic penis piercings and torments. Play Piercings for Women, feature and photos by Fakir. Interview and photos of Magic, who nurses her baby while wearing nipple rings. The Great Wyoming Sun Dance of 1982, an account by Fakir Musafar, photos by Charles Gatewood. Letters of Ellen Sunshine, Part 2. No. 17: 28 pp. Color covers and center spread. Letters. Pierce with a Pro looks at the Nostril. Meet Indy, with color and b/w photos of his multi-pierced penis by Fakir. Letters of Ellen Sunshine, Part 3. More play piercing photos by Jim Ward. Sara, revisited. No. 18: 32 pp. Color cover and centerfold. Letters, and full-page reproduction of an award-winning photo of Jim Ward by Davis Barber. How-to do Septum Piercings, with disclaimer and photo-illustrated by Fakir Musafar. Photos of Richard of Anaheim's deep piercing at the base of his penis. Meet Mistress Golden Rings, including early scrapbook photos. Helpful hints on jewelry care. Piercing enlargement by Fakir Musafar. And Tattoo Samy shows his tongue stud, one of the early photos of this now-ubiquitous piercing. No. 19: 32 pp. Pierce with a Pro, The Tongue. Photos of Pudenda piercings. Color centerspread of cover model Hans of Denmark, another modern primitive, by A. Viking Navarro. This includes photos of Navarro inserting his stretched and pierced foreskin through Hans enlarged Queen Victoria piercing, for an unusual bit of penetration. More primitive piercings from around the world. More photos of Marni. And a collection of variously pierced nipples. No. 20: 32 pp. Letters, including one with piercing of back of the hand. Pierce with a Pro looks at Female Nipples. Color photos of cover model Mistress Noni and her stretched labial piercings, plus a feature by Fakir. Spears of Siva, by Fakir with many photos by Mark I. Chester, showing him being fitted for, wearing and walking in the Kavandi. No. 22: 32 pp. This issue is mostly readers letters and photographs. Krystine the Kolorful, photographed by Madame Lazonga. Photo by Annie Sprinkle, "Portrait of an Ear that Looks Like a Fish." Shirley photographed by Tim Calf. Chastity Choice, fiction by Michael O'Connor. Two portraits by Pat O'Connor. Color photos of the erotic piercings of Jake & Eileen. Eric Nema photographs Angel, who has an eye-popping ankle hole behind his Achilles tendon, through which he hangs from a hook. Wow! Nipple stretching letter and progressive photos by Gary. A couple of photos from and a review of Stellarc's Obsolete Body/Suspensions, followed by Fakir Musafar's Suspension from Multiple Piercings, with himself as the model. No. 23: 32 pp. Editorial on AIDS. Eddie G. of England, photos by Mr. Sebastian. More shots of Shirley by Tim Calf. Burdette, photos by Jim Ward. Pierce with a pro looks at Hand piercings. Miss Tracy, photos by Ted V. The erotic images of S. Fisher, including the penis-as-thorny-rose-vase we like so well. The Late Ethel Granger, London 1975, photos by Friedrich Bastl, in association with Kurt Interl. The Ring of Ouroborus, fiction by Max. Pride in Shame, four drawings by Tim A. Photos of L, with pincushion breasts. Others of Mel, with big nails in is penis piercings. No. 24: 32 pp. Jim Ward editorial about New Zealand calling issues 11 and 14 of PFIQ indecent. Photos of unusual multiple ear piercings with jewelry, including Ward's variations. Results of a PFIQ survey, The Piercing Profile Evaluated, by Mike Nichols. Zapata, photos by Fakir. Pierce with a Pro looks at the Ear Lobe. More great piercings from around the world. No. 25: 32 pp. Lots of photo-illustrated letters, including a small neck barbell. Daele V. photos. Europa Pierced by Fakir, photos by Annie Sprinkle & Les Barany. Jack B. ears, nipple, penis. Pierce with a Pro looks at piercing the Tragus. Robert/Roberta photos by Poindexter. No. 26: 32 pp. Letters, some with photos of a North Indian Herdsman, Mrs. Savitrabal Bapu Avhad with a tragus ornament called a kudki, and Burabhai Ismail with a ring of copper wire through the concha of his right ear to alleviate pain. Photos of Henry Ferguson - beautiful, minimally pierced women. BobE contributes several photos of a kind of penis harness + piercing. The Thrill of it All, by Bob Flanagan. Neon loops as earrings, with neon artist Betsy Berberian, color photos by Fakir, plus article on stretching ear holes. Pierce with a Pro looks at the Apadravya. Jennifer, text by Bob Flanagan, photos by Mike Nichols. No. 27: 32 pp. Letters. new rign and barbell designs from Gauntlet. More photos from Henry Ferguson. Silver Fox: Photos by Fakir; a memoir of coming out of midlife into gay jockhood, with photos of him wearing his medals as piercing weights. Premier of Dances Sacred and Profane. Pierce with a Pro updates The Male Nipple, photos by Poindexter. The camera artistry of Peter O. Various pierced ear photos. No. 29: 32 pp. Renee, photos by John Glass. Photos of Richard Barrister, Brigitte, Michael D. Madame Labrette photos (this is actually Cleo DuBois). The Magnificent Menage a Trois, story and photo by Fakir. Pierce with a Pro examines the Labret. Photos of Peter. Photos of Los Angeles band Bent. No. 30: 32 pp. Front and back cover photos, and color centerfold, by Annie Sprinkle. Readers letters and photos of unusual piercings. Todd & Friend featured in more b/w photos. Several full-page reproductions of Michael A. Rosen photographs. An excerpt by Bhagwan Shree Rajneesh on Piercing as Meditation. Healing Harmonics by Fakir and Carla, photos by Mark J. & Chris S., with photos showing the process of hanging the Fakir in four-point suspension and Carla with many balls attached to her body. Bill Browning memorium. Excerpt from A Taste for Travel by John Julius Norwich. Periodicals of Interest: Body Art Magazine. No. 31: 32 pp. Photos of Gigi, Lori & Diane; Gerard, Elvira and Bernie; and Alex with his moustache jewelry in a septum piercing. In Memorium: Arnold Rubin. Colorful tattoos of Krystine Kolorful, photos by Dianne Mansfield. Pierce with a Pro updates The Frenum, photos by Fakir. Psychic TV: Photos of the genitals of Genesis P-Orridge, Coyote, and Paual, by Sheree Rose, from her recent show Needles & Pins II. Big earrings of LA tattoist Robert Benedetti. Videos of interest reviewed: Cult of Manhood, Pierce with a Pro, and Bodyshock.No. 32: 32 pp. Readers letters and photos, including a se by Pauline Clarke of Piercing Association U.K. Drew Nicholas photographs J.T.'s 16 new frenums and scrotum piercings. Jim Ward photographs Earl, and Drew Nicholas photographs Crystal Cross. Another RIP, this time for Sid Morris. Todd Friedman photographs Viper in color for the cover and centerfold. More nature photos by Michael Rosen of the Valhalla Piercing Ceremonies 1988, participants include Fakir Musafar, Jim Ward, Sharon, Stacy, Carla, Brad, Alain, Michael, Shari, and Gannymede. Includes a Kavendi ceremony and ball dance. Laid in: Pin Pals contacts page. No. 33: 32 pp. Long series of photos taken between 1983 and 1989, showing how one reader stretched her labia piercings to amazing proportions. Leslie contributes photos of Kimo's stretched and full-of- metal penis piercings. Katherine shown with speculum and weights. Michael Childers photographs Michael Pereyra, Internatinoal Mr. Leather 1988. Penni photographed by Todd Friedman. Ted: A Living Sculpture, interview and photographs by Annie Sprinkle, transcribed & Edited by Marco Vassi. Nora photographed by Sir Michael. Sheree Rose interviews Genesis P-Orrige of Psychic TV. Photos of Linus and his multiple penis ring piercings, Alain & Ganymede. No. 34: 32 pp. Droux photo shows the grand opening of Gauntlet San Francisco. Todd Friedman photographs Julie, D.D., Keren & Yasmiin. Nod photographs some hefty piercings. Todd Friedman photographs Elayne Levine, tattoo Angel, including in color. Droux photos illustrates an article on female nipple piercings. Thatcher Keats photographs the Vegetarian Festival at Phuket, that seems to involve a lot of large cheek piercing. Laid in: Pin Pals contacts page.No. 35: 32 pp. Associate editor Fakir Musafar. Memories and photos of Sailor Sid. Ring Cycle shows Sailor Sid, Mr. Sebastian, and Thing, chained together by the nose. Todd Friedman photographs Jennifer's stretched nipples. Efrain Gonzalez photographs Larry Happ's penis piercings. Peter Rosenbaum photographs the body art of David Kotker. Todd Friedman photographs Rick & Debbie's master/slave relationship, incluidng color photos. Instructions on how to pierce the vertical clit hood, photos by Fakir, piercer is Karen Hurt. No. 36: 32 pp. Associate editor, art direction, and production by Fakir Musafar. Charles & Kathy, piercing pioneers, photos and story by Fakir. Scott Schatsky interviews Jim Ward, photos by Drew Nicholas & Fakir. Debbie Wertheim reviews Michael Rosen's Sexual Portraits. "Daddy Bear" Rings introduces himself, photos by Fakir. Pierce with a Pro shows how Jim Ward does eyebrow piercings. Readers letters and photos. And a crossword puzzle by Jim Ward. No. 37: 40 pp. cover photo of Lily Braindrop by Annie Sprinkle. Drew Nicholas and Efrain Gonzalez photograph the newest Gauntlet store, in New York City. Letters and photos from the reader. New female genital piercings, Fourchette and triangle, illustrated. Gregory Hofler writes on natural healing & pain control. Color photos by Todd Friedman of female genital piercings, Alex & Elayne, Michaela & Kristen, Cindy & Sandra. Jim Ward provides instructions on how to pierce the labia minora, photographed by Drew Nicholas. And another crossword puzzle by Jim Ward. No. 38: 40 pp. Los Angeles Gauntlet celebrates new space, photos by Drew Nicholas. George, photos by Charles Goll. The Making of a Video: Pierce with a Pro 2 and 3 in productoin, feature by Scott Shatsky, photos by Drew Nicholas. Video review of Painless Steel II. The photography of Efrain Gonzalez, with biographical info. Interview with the Genitorturers. Pierce with a Pro: The Tongue: an alternate approach. Readers letters and photos. Crossword puzzle by Jim Ward. No. 39: 40 pp. Readers letters & photos, including one of Todd Friedman and Kendra's handfasting, performed by Jim Ward. A Study in Stretching, subject J shows her labia to photographer Todd Friedman. Charles Gatewood's Primitives. Piercing pointers by Scott Shatsky. Journey of Jen, photos by Friedman. Pierce with a Pro: THe Prince Albert - an improved technique. Review of video Mistres of the Rings by Steen Schapiro. Software review of SoapBox software. Review of The Black Book. Steven, a leatherman, photographs by Dana Schurhammer. Jim Ward a& Jim Anderson's crossword puzzle. No. 40: 40 pp. Views through a camera lens, photos by Charles Goll. The Todd Friedman Touch, erotic photos. Sluts & Goddesses, photos by Annie Sprinkle. Pierce with a Pro looks at the Male Nipple - an update. Keep it Clean: The latest word in aftercare for new piercings. Michael, and Daddy Irwin Gets Pierced: photos by Drew Ward. Chance contributes a personal story of how he got his problem labret to heal up. Crossword puzzle by Jim Ward & Jim Anderson. No. 42: 40 pp. Jim Ward reminisces on the grandfather of modern piercing, Doug Malloy. Many of Doug's photograph collection were destroyed by his widow, yet another preventable tragedy of our cultural heritage. Other fascinating articles by Doug Malloy. Woody & Peaches photographed by Drew & Jim Ward. Todd Friedman photographs the beauty of the female form. Donna R. Adams reviews baby food, as the easiest thing to eat after a tongue piercing. Miscellania includes a patent for a Device to Prevent Dogs from Worrying Sheep, which seems to be a nose piercing with hanging grapple hook. And another crossword puzzle by Jim Ward.No. 43: 48 pp. One page Piercee's Bill of Rights. Nipple Piercing survey outcome by Joann Lee, R.N. Daemon & Raven Rowanchilde, urban primitives, profiled. A few beauties from Skip William's 1995 Angels of Steel calendar are shown. Dangerous and unconventional piercer Jon Cobb (including his trademark Uvula piercing) interviewed by Paul King, photos by Brian Finke. Pierce with a Pro revisits the navel piercing. Sally Griffyn photographs British piercings. Peter Shaun Morrison remembered. No. 44: 56 pp. Editorial by Sharon Sheinker on clitoral anatomy and best piercing spots. A few of Annie Sprinkle's Post-Modern Pin Up cards shown. Anne Greenblatt & Lani Teshima- Miller on piercing on the Internet. Joseph W. Bean shows his cut paper erotic art, very cool. Several tongue-piercing photos and the stupid questions that go along with them. Folsom Street Fair trip photos. Profile of Jesus Nightclub for Faggots, Dykes, & Freaks. And how to pierce the tragus, that little ear knob on the other side of the lobe. And color and b/w photos of body modifications for modified bodies -- including explicit photographs of transsexual and intersexual genital decorations -- including interviews -- of Les, Skeeter, Tala, Gaby, and Matt. This particular issue of PFIQ was banned in some places and created quite a flap, possibly due to these photographs. No. 45: 54 pp. This issue is celebrating Gauntlet's 20th anniversary, with old photos, profiles of important Gauntlet workers both corporate and at the LA, NY, Paris, and SF stores, mail order, and manufacturing. Pierce with a pro on the Labia Majora, piercer Michaela Grey photographed by Jim Ward. Todd Friedman photographs Dr. Tech Sharon; Michael Rosen photos, Annie Sprinkle wonders, Efrain Gonzalez photographs Jack, Skip Williams calendar, Jerry Rosen photographs Peggy, Mahesh, Meredith, and a self-portrait; and more b/w works by Charles Goll. No. 46: 56 pp. Examination of the lfine line between piercing enthusiasts and piercing extremists, illustrated with some extreme photos from past issues, and an essay on how to play safe when pushing the edge. Readers letters and photos, including Burdette's pierced and tattod penis, and Fiona's shaved lock-encrusted vulva. Molly McGee, Bob & Aimee, and an interview with Bud the Punk by Paul King. Tokyo housewife Lima shows her large guage rings. A profile on the sensual world of Cameron Wolf. Another profile on David Anthony, founder, owner and senior piercer of Body Work Productions Inc. Todd Friedman photos. Justice Howard photographs Todd Bertrand. Pierce with a Pro details the apadravya penis piercing. No. 47: 56 pp. Ethnographic photographs and profiles of the Tribal Aesthetic. Maasai photos by piercer Angelique Llewellyn. Oceana Bundi and Dayak. Photos of Jo Ann wearing Dyak silver ear coils from Borneo, by Billy Douglas.Tribal jewelry from the collection of Paul King. Various jewelry and piercing habits from India, including Apatani nose stretching, Dabla and Miri earlobe stretching, and Konyak Nagas ear jewelry. Erica shows her native curiosities including a monkey skull necklace from Kalimantan. Color centerfold of Baaba, who reclaimed his aboriginal heritage via tattoos and body adornment, by Todd Friedman. Gen models Paul King jewelry. Jef and Rene Martin, owners of Rites of Ascension in Nashville, recreate Mesoamerican rituals. Pacific Northwest (Eskimo or Inuit) body decoration (labret and septum piercings) explored. Dave describes his tribal lifestyle. Jim Ward photographs and describes how to stretch piercings.No. 48: 56 pp. The fetish & fashion issue. Readers letters and photos. Review of CD ROM Corpus Transfixum: Body Piercing as Metaphor. Fetish greeting cards by Efrain John Gonzalez. Michael Manning fine art and fetish. Photographs of Jonathan Kochan. Photographs of Steve Vaccariello. Michael Rosen photographs Meistro. Todd Friedman photographs Mechele. Damian Day takes gritty fetish photos. Chain filled Drew Ward photos. Pierce with a Pro looks at the Septum. And a memorial to Alan Oversby, aka Mr. Sebastian. No. 49: 64 pp. This issue is Performance & Piercing. Review of Torture Garden: A photographic archive of the new flesh, by David Wood. Performers profiled are Ron Athey, Spike: Holocaust girl photographed by Christine Kessler; Drag mods featuring Trauma Flintstone, Mark Pritchard, Cirus, and Fennel. Crystal Cross of the Primeval Body Piercing Studio in LA. Color photos of Chuk breathing fire by Billy Douglas. Paul King performances. Hellraiser Night at Sinematic. Julie Tolentino. Dave Tavacol. Mr. Lifto from Jim Rose circus, picks up things with his nipples and prick. Mr Fab & Co. does Body and Soul performances. While Justin Chin cites vanity and aesthetics as his motivation. Pierce with a pro returns to the Triangle. No. 50: 64 pp. The romance issue. Letters and photos from the readers. Meet the staff of Gauntlet Seattle. John and Michele photographed by Todd Friedman. Chloe & Lilly by Kelly of Pariah. Bobby & Christopher photos by Michael Adrianne. Michael Rosen photographs several couples, and Skip Williams shows 5 more. Mark & Don photos by Michael Adrianne. Demi & Tomoya in color. Al D. & Richard. More couples by Jerry Rosen. Pierce with a Pro goes roots with the Earlobe. Saddle-stapled magazine. Light shelfwear. Some issues (No. 3, 5, 8, 9, 11, 12, 13, 14, and 23) are more or less wrinkly from damp stains, though still intact and readable. Included are two purple velveteen notebooks, imprinted with the PFIQ logo. Very good
Book Details
PFIQ. PIERCING FANS INTERNATIONAL QUARTERLY No. 01 - No. 50; missing Nos. 2 , 21, 28 and 41 by Ward, Jim (Ed.)
Bookseller: Alta-Glamour Inc. (US)
Bookseller Inventory #:

62862

Title:

PFIQ. PIERCING FANS INTERNATIONAL QUARTERLY No. 01 - No. 50; missing Nos. 2 , 21, 28 and 41

Author

: Ward, Jim (Ed.)
Binding:

Hardcover

Publisher:

Gauntlet Enterprises

Place:

Beverly Hills, San Francisco

Date published:

1977-1997

Keywords:

piercing, tattoo, pop culture
---
Terms of sale:
Return within 30 days for refund if not as described. Will work with you to your full satisfaction.
---
Quantity available: 1
$ 1,450.00
$4.50 shipping to USA
30 Day Return Guarantee
Calculate shipping

Ask the bookseller a question
Offered by

E-mail bookseller
Biblio.com member since: 2006
Location: Seattle,Washington
---

What is a first edition?
The concept of a first edition is central to most book collecting endeavors. Find out what makes a first edition important and how to identify one.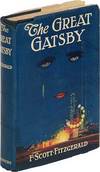 What are points of issue?
What exactly does it mean when book collectors and dealers talk about points of issue? Understanding what they are and when to look at them can be critical in developing your book collection and can help you avoid costly mistakes. Read more >>