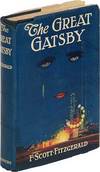 What are points of issue?
What exactly does it mean when book collectors and dealers talk about points of issue? Understanding what they are and when to look at them can be critical in developing your book collection and can help you avoid costly mistakes. Read more >>
Books into film
Books that were subsequently made into films are among the most highly sought after titles for many collectors. View some of the high points in our books into film rare book room.