No Heartbleed: Biblio is safe for shopping.
Read about Biblio and the Heartbleed bug.
Hanselled Books
Hanselled Books specializes in Antiquarian, Art, History, Literature, Religion, Science Fiction, Scottish Interest, Travel & Exploration
Search the inventory of Hanselled Books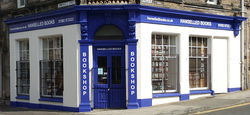 Biblio member since: 2008-05-22
E-mail address:
Phone number: 01592 873323
Address:
Hanselled Books
19 Kirkgate
Burntisland , Fife KY3 9DL United Kingdom
Payment methods accepted:
Shipping Rates:
Click here for shipping rates
Terms of sale:
A full refund, including postage will be processed on all books returned within 14 days. An extended period of 4 weeks will be allowed on books returned from outside the UK.
Bookseller Description
Hanselled Books has been providing Quality Online Service since 2002. We were an exclusively web based business but in October 2009 we opened retail premises in Burntisland Fife, allowing us to expand the range of books on offer. We stock a range of secondhand and new books; we are particularly strong in Science Fiction and Fantasy, Educational and Text Books and difficult to find titles. With over 20,000 book titles in stock we are sure you will find something to suit your wants.



Browse by bookseller catalog: