No Heartbleed: Biblio is safe for shopping.
Read about Biblio and the Heartbleed bug.
Books Galore LLC
Books Galore LLC specializes in General, Roleplaying Games
Search the inventory of Books Galore LLC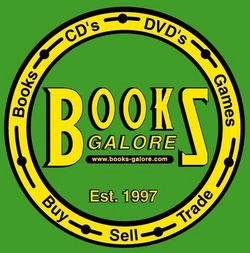 Biblio member since:
2004-05-26
E-mail address:
Phone number:
636-937-2665
Address:
Books Galore LLC
,
Missouri
63028
United States
Payment methods accepted:
Shipping Rates:
Click here for shipping rates
Terms of sale:
Please contact us for additional detail, to insure availability, or for photographs of an item.
Bookseller Description
Open shop with both new and used book, about 40,000 books in stock. Also, music CD\'s, DVD\'s/Videos, & Electronic Games.