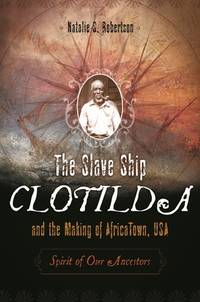 Stock Photo: Cover May Be Different
The Slave Ship Clotilda and the Making of AfricaTown, USA: Spirit of Our Ancestors Hardcover - 2008
by Natalie Robertson
---
From the publisher
Debates on reparations for slavery have emerged on national and international levels. However, much of the discourse centers on the legitimate slave trade. Few people are cognizant of the fact that the transatlantic slave trade consisted of both a legal trade and an illegal trade that began after January 1, 1808. Despite statutory prohibitions against slave smuggling, American citizens continued to smuggle African captives into the United States up to and beyond the threshold of the Civil War. The Slave Ship Clotilda and the Making of AfricaTown, USA is the only well-documented work of serious nonfiction that chronicles the transatlantic smuggling expedition of the slaver Clotilda during the slave trade's illegal period, dramatizing the plight of her captives from the point of capture in the West African interior to the point of disembarkation in Mobile, Alabama in 1860, and tracing the specific means by which the captives triumphed over their tragedy. Thirty members of that fateful cargo established AfricaTown in Alabama, where many of their descendants still live. In 1927, Zora Neale Hurston interviewed Cudjo Kazoola, the last survivor of the Clotilda. In The Slave Ship Clotilda and the Making of AfricaTown, USA Natalie S. Robertson uses ethnography, cartography, linguistics, and oral history to connect the story of the Clotilda captives to their origins in Africa, through their ordeals on the middle passage, all the way to the issue of reparations in the present day. She incorporates indigenous African perspectives, Hurston's interviews, and sources such as the Clotilda's log, meshing diverse voices into a narrative that reveals the centrality of slavery, Africanisms, and resistance in American culture even today.
Details
Title

The Slave Ship Clotilda and the Making of AfricaTown, USA: Spirit of Our Ancestors

Author

Natalie Robertson

Binding

Hardcover

Edition

First Edition, F

Pages

272

Volumes

1

Language

ENG

Publisher

Bloomsbury Publishing PLC, Westport, Connecticut, U.S.A.

Date

2008-03-01

ISBN

9780275994914 / 0275994910

Weight

1.37 lbs (0.62 kg)

Dimensions

9.51 x 6.4 x 1.02 in

(24.16 x 16.26 x 2.59 cm)

Themes

Chronological Period: 19th Century
Cultural Region: South
Ethnic Orientation: African American
Geographic Orientation: Alabama
Locality: Mobile, Alabama
Topical: Black History

Library of Congress subjects

Slaves - Alabama, Slavery - Alabama - History - 19th century

Library of Congress Catalog Number

2007044010

Dewey Decimal Code

306.362
Media reviews
Citations
Booklist, 06/01/2008, Page 14
Choice, 03/01/2009, Page 0
Multicultural Review, 12/01/2008, Page 66
Reference and Research Bk News, 08/01/2008, Page 75
About the author
Natalie S. Robertson teaches at Hampton University and is the editor of African American History in Transatlantic Perspective (2002) and The Ancient and Global Dimensions of Black History (2000).