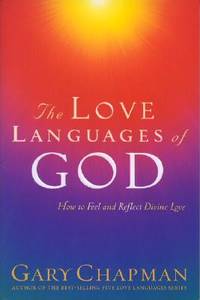 Stock Photo: Cover May Be Different
The Love Languages of God How to Feel and Reflect Divine Love (Chapman, Gary) Paperback - 2004
by Gary Chapman
---
First line
SUSAN WAS MY FIRST APPOINTMENT of the day, and I felt like crying when I heard her story.
Details
Title

The Love Languages of God How to Feel and Reflect Divine Love (Chapman, Gary)

Author

Gary Chapman

Binding

Paperback

Edition

New Edition

Pages

240

Language

ENG

Publisher

Northfield Publishing, Chicago

Date

January 1, 2004

ISBN

9781881273936
About the author
GARY CHAPMAN, PhD, is the author of the #1 New York Times bestselling "The 5 Love Languages." With over 30 years of counseling experience, he has the uncanny ability to hold a mirror up to human behavior, showing readers not just where they go wrong, but also how to grow and move forward. Dr. Chapman holds BA and MA degrees in anthropology from Wheaton College and Wake Forest University, respectively, MRE and PhD degrees from Southwestern Baptist Theological Seminary, and has completed postgraduate work at the University of North Carolina and Duke University. For more information visit his website at www.5lovelanguages.com.