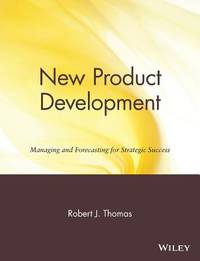 Stock Photo: Cover May Be Different
New Product Development: Managing and Forecasting for Strategic Success Paperback - 1993
by Robert J. Thomas
Introducing the first of a new line of Portable MBA books focusing on specific subjects vital in today's business circles. Managers learn how to maintain a firm grasp of a project throughout its development, how to forecast more accurately, and ultimately how to ensure the success of a product launch.
---
From the publisher
For increasing numbers of organizations, new product development is a priority concern. Intense global competition, rapid technological change and mutating patterns of world market opportunities compel firms to continually revitalize products and services for existing and new markets - if not for profit, for survival. However the risks of new product development are legendary. New products that fail to make the grade provide excellent material for the business press. This book aims to combine the art of science and new product development to enable manufacturers to gain control of the process and develop reliable forecasts. Providing an original conceptual approach and logical programme of action for new product development and forecasting, this book links the art (development) and science (measurement) of new production. The author details a reliable and useful control framework for decision makers, which includes spreadsheet models, planning steps and examples
From the rear cover
Dr. Thomas shows how to take control of the new product development process by effectively forecasting market opportunities, estimating sales and profits, designing marketing efforts, timing the launch of new products, and tracking products after launch. He shows that managing and forecasting successful new product developments are an interactive process involving all members of the new product team.
Details
Title

New Product Development: Managing and Forecasting for Strategic Success

Author

Robert J. Thomas

Binding

Paperback

Edition

First Edition (F

Pages

368

Volumes

1

Language

ENG

Publisher

Wiley, New York, New York, U.S.A.

Date

1993-12-16

ISBN

9780471572268 / 0471572268

Weight

1.47 lbs (0.67 kg)

Dimensions

10.24 x 7.34 x 1.26 in

(26.01 x 18.64 x 3.20 cm)

Library of Congress subjects

New products - Management, New products - Marketing - Forecasting

Library of Congress Catalog Number

93015395

Dewey Decimal Code

658.575
About the author
ROBERT J. THOMAS, PhD, is a Professor in the School of Business at Georgetown University and a corporate consultant specializing in new product development and strategic marketing management. Formerly Associate Dean of Georgetown's MBA program, Professor Thomas is also the author of New Product Development: Managing and Forecasting for Strategic Success. He received his PhD from the University of Pennsylvania's Wharton School.