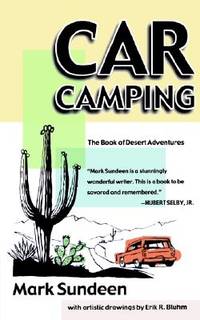 Stock Photo: Cover May Be Different
Car Camping: the Book of Desert Adventures Paperback - 2000
by Sundeen, Mark
---
From the publisher
Hunter Thompson meets Bill Bryson in this hilarious narrative of travels throughout the Southwest.
He's like Huckleberry Finn
Sort of.
He's a twenty-two-year-old housepainter living at his parents' house in Southern California, across a four-lane street from a gated subdivision. Now this suburban innocent is striking out on the only type of adventure he can afford: he's getting into his station wagon and going camping in the desert.
Join Mark Sundeen on his rumble-tumble journey across the Southwest, and find that the mystical home of Butch Cassidy, Chief Cochise, and Major John Wesley Powell has been transformed into something entirely strange yet unexpectedly familiar. It's a new West of low-rent trailer parks and high-dollar houseboats, of hot-springs singles scenes and homeless river guides and hapless soul-searchers, for sun-beat old-timers chewing the cud of the land and survivalist teenagers hiding out form the Man. It's a place far from the America you thought you lived in, but close enough to drive to in your car. " Car Camping is a modern-day western adventure in the spirit of Mark Twain and Jack London, and you're invited to come along.
Details
Title

Car Camping: the Book of Desert Adventures

Author

Sundeen, Mark

Binding

Paperback

Edition

1st Edition

Pages

256

Publisher

Quill (HarperCollins), New York, NY

Date

2000-05

ISBN

9780688174606