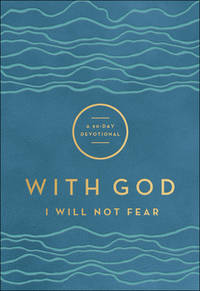 With God I Will Not Fear: A 90-Day Devotional Leather - 2023
by Compiled by Baker Publishing Group
---
From the rear cover
So we may boldly say: "The Lord is my helper; I will not fear."--Hebrews 13:6

The words do not fear are found over 100 times in Scripture, reminding you that in every situation, you can have courage and confidence as you rest in the presence of the God who loves, leads and protects you.

Packed with insight and encouragement that lasts all day, each of these 90 uplifting devotions includes

- powerful prayers
- biblical promises
- reflection questions
- declarations of truth
- practical action steps

Today you can face every fear with faith and unwavering conviction that the One who created you will never leave you or forsake you.
Details
Title

With God I Will Not Fear: A 90-Day Devotional

Author

Compiled by Baker Publishing Group

Binding

Leather

Pages

192

Volumes

1

Language

ENG

Publisher

Chosen Books

Date

2023-04-18

ISBN

9780800762711 / 0800762711

Weight

0.5 lbs (0.23 kg)

Dimensions

7.6 x 5.2 x 1.1 in

(19.30 x 13.21 x 2.79 cm)

Themes

Religious Orientation: Christian

Library of Congress subjects

Fear, Fear - Religious aspects - Christianity

Library of Congress Catalog Number

2022028314

Dewey Decimal Code

201.615