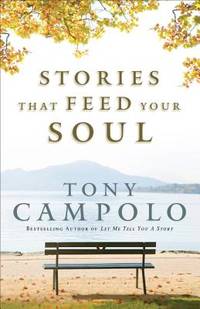 Stories That Feed Your Soul Paperback - 2010
by Tony Campolo
---
From the publisher
Bestselling author and modern-day prophet Tony Campolo believes that one of the best ways to tell the grand story of the gospel is to tell stories of everyday life where God is at work...just as Jesus did during his earthly ministry. This collection of stories from Tony's lifelong friendships and international travels allow readers to "overhear" the gospel at work around the world. Set around Romans 8, the stories center on eight gospel themes: freedom of condemnation, new life in Christ, intimacy with God, the call to rescue creation, living with hope, praying in the Spirit, God's plans for us, and the assurance we need. Whether humorous or poignant, each one is an unforgettable echo of God at work around us and within us.
Details
Title

Stories That Feed Your Soul

Author

Tony Campolo

Binding

Paperback

Pages

208

Volumes

1

Language

ENG

Publisher

Baker Books

Date

2010-09-13

ISBN

9780801017551 / 0801017556

Weight

0.6 lbs (0.27 kg)

Dimensions

8.4 x 5.3 x 0.7 in

(21.34 x 13.46 x 1.78 cm)

Ages

12 to 10 years

Grade levels

7 - 5

Themes

Religious Orientation: Christian

Library of Congress subjects

Christian life

Library of Congress Catalog Number

2014954055

Dewey Decimal Code

277.308
About the author
Tony Campolo is a professor emeritus of sociology at Eastern University in St. Davids, Pennsylvania. Founder of the Evangelical Association for the Promotion of Education (EAPE), an organization that develops schools and social programs in various third world countries and in cities across North America, Dr. Campolo is an ordained minister and is presently recognized as an associate pastor of the Mount Carmel Baptist Church in West Philadelphia. He is a media commentator on religious, social, and political matters, and has appeared on "Nightline," "Crossfire," "Politically Incorrect," "The Charlie Rose Show," "The Colbert Report," and "CNN News." He cohosted his own television series, "Hashing It Out," on the Odyssey Network, and presently hosts "From Across the Pond," a weekly program on the Premier Radio Network in England. Dr. Campolo is the author of more than thirty books, including "Letters to a Young Evangelical "and "Red Letter Christians: A Citizen's Guide to Faith and Politics."