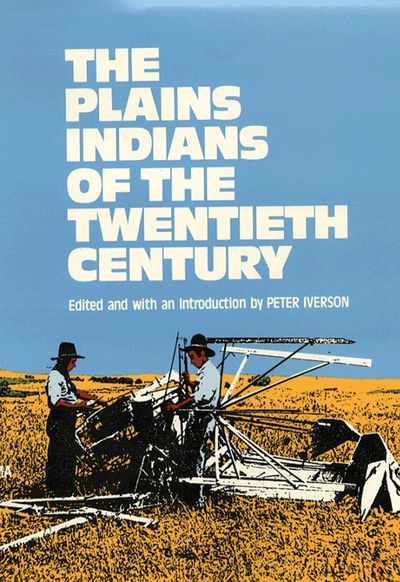 The Plains Indians of the Twentieth Century Paperback - 1985
by Peter Iverson
---
From the publisher
The massacre at Wounded Knee, South Dakota, in the December snows of 1890 was the last formal military encounter between the United States and Indian tribes. It is also the event with which most studies of Indian history conclude. Histories of Indian life since then are, as Vine Deloria, Jr., has stressed, sorely needed.
With this pioneering anthology Peter Iverson clears the way for future studies of twentieth-century Plains Indian life. He begins with a capsule history and introduces eleven articles by leading scholars in the field. Iverson's collection emphasizes the ability of Plains Indians to change, adapt, and yet maintain tribal identity despite inordinate demands on their lands and cultures.
The collection includes articles on the Lone Wolf case and Quanah Parker, by William T. Hagan; Cheyenne-Arapaho land allotment, by Donald J. Berthrong; Sioux adaptation to reservation life, by Frederick E. Hoxie; the Winters decision on water rights, by Norris Hundley, Jr.; interviews on the Indian New Deal, conducted by Joseph H. Cash and Herbert T. Hoover; Indians in World War II, by Tom Holm; the Pick-Sloan Plan, by Michael L. Lawson; tribal political authority, by Loretta Fowler; mineral resources on Indian land, by Donald L. Fixico; and Indian constitutional rights and religious freedom, by Vine Deloria, Jr. The collection concludes with a study of Northern Cheyenne religion by Father Peter J. Powell, who demonstrates that there is power still untapped for the strange new days that lie ahead for Plains Indians.
Details
Title

The Plains Indians of the Twentieth Century

Author

Peter Iverson

Binding

Paperback

Edition

Reprint

Pages

288

Volumes

1

Language

ENG

Publisher

University of Oklahoma Press, Norman, OK

Date

1985-11-15

ISBN

9780806119595 / 0806119594

Weight

0.7 lbs (0.32 kg)

Dimensions

8.56 x 5.49 x 0.85 in

(21.74 x 13.94 x 2.16 cm)

Themes

Cultural Region: Plains
Ethnic Orientation: Native American

Library of Congress subjects

Indians of North America - Great Plains -

Library of Congress Catalog Number

85040475

Dewey Decimal Code

978.004