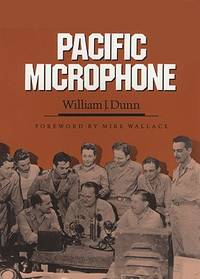 Pacific Microphone (Williams-Ford Texas A&M University Military History Series) Hardcover - 1988
by Dunn, William J
---
From the publisher
In the famous sculpture of Gen. Douglas MacArthur's triumphant return to the Philippines in 1944, one man follows the general onto the beach wearing neither helmet nor hat. That man is a radio reporter, one of only a handful who covered the war in the Pacific for the Americans back home. That man is Bill Dunn. This is his story of that war.
CBS sent reporter Dunn to the Orient nearly a year before the attack on Pearl Harbor to survey broadcast facilities for the coverage of the anticipated hostilities. In Rangoon he learned that his nation was at war. After moving to Batavia to cover the fall of the Netherlands East Indies, he escaped to Australia, where he joined MacArthur's staff for the duration. From that vantage point he covered air, land, and sea battles, campaign planning, ground combat, and the liberation of internment and POW camps. At Japan's surrender, he was dean of correspondents in the Southwest Pacific, a distinction that earned him an early entry into defeated Tokyo and a bird's-eye view of the signing of the surrender document. Based on Dunn's memories and the transcripts of his broadcasts from the field,
Pacific Microphone
presents the first written account of the vagaries and headaches of providing radio coverage of a war that encompassed half the globe, including vast areas where modern electronics were limited. It also offers some unique viewpoints of certain aspects of the Pacific war, the insights of a professional observer who came to know the men and women who fought that war on land, air, and sea, and, certainly, the commanding minds that provided the direction and leadership that resulted in ultimate victory.
Details
Title

Pacific Microphone (Williams-Ford Texas A&M University Military History Series)

Author

Dunn, William J

Binding

Hardcover

Edition

First Edition

Pages

416

Language

ENG

Publisher

TAMU Press, College Station

Date

1988

ISBN

9780890963395
About the author
WILLIAM J. DUNN served as an editor at CBS News, during World War II. After the war, he stayed in the Philippines to help reorganize the Manila Broadcasting Company. In 1959 he moved to Europe as a freelancer; while there he wrote half a dozen books on travel and food.