What a better way to spend Valentine's Day them to buy something bookish for a loved one and to give a book away to a child!
International Book Giving Day encourages you to give, leave or a donate a book to a child.
Our non-profit arm BiblioWorks is dedicated to doing just this on a daily basis – getting books in the hands of kids in communities in need. We believe that healthy communities require healthy minds. That's why we have been building libraries, supplying books and training librarians in the poorest communities of Bolivia since 2005.
 and if you are still looking for something for your loved one perhaps the following list of  "love" related material might help.
Valentine's Day is approaching and we are happy to offer an eclectic, love-themed collection to fit the bill.
From a book by Captain Kangaroo (with illustrations by Maurice Sendak) to the galleys for Erich Segal'sLove Story, which became a #1 bestseller and  #1 one at the box office in the same year, we hope you'll find something worthy of your loved one.
Enjoy!
---
Assorted Valentine's Day Books
Keeshan, Robert (Capt. Kangaroo).  She Loves Me…She Loves Me Not.  New York, N.Y.: Harper and Rowe, 1963. A very nice bright book, pictorial cloth cover, previous owner's gift inscription (short) on front end paper, otherwise bright and unmarked. Nice dust jacket with light toning, except on the spine which is more heavily toned, one very small nick in the upper rear edge. A perfect Valentine's Day gift for a special loved one. First Edition. Pictorial Hard Cover. Very Good/Very Good. Illus. by Maurice Sendak. 32mo – over 4″ – 5″ tall. $250.
Staff, Frank. The Valentine and Its Origins.  New York/Washington: Frederick A. Praeger, 1969. Quarto. A nice copy, with a dust jacket that has some tears. $75.
Williams, William Carlos; (with prints by Helen Frankenthaler).Valentine for Mr. Wonderful. NY: Tyler Graphics, 1997, first separate and first ill'd edition of the Williams poem, number 34 of 35 copies, signed, numbered and dated in pencil by Helen Frankenthaler on the justification leaf; the lithographically printed poem by William Carlos Williams is illustrated with 7 original unsigned hors-texte color intaglios, which were printed from 11 copper and 5 plastic plates, each with Tyler Graphics blindstamp, on HMP linen-textured white handmade paper. Overall size 13.75 x 10 in. (35 x 25 cm), loose leaves in heavy paper wrappers with a Frankenthaler full-page color intaglio on front panel, fit in cloth box; as new. $6,800.
Ranking, B. Montgomerie and Tully, Thomas. The Quiver of Love: A Collection of Valentines Ancient and Modern. London: Marcus Ward, 1876. First edition. Original brown fine grain cloth with elaborate gilt-stamped design front cover and spine. Frontispiece, title-page highlighted in gold; four superb mounted color illustrations also heightened in gold by Kate Greenaway and four by Walter Crane. All edges gilt. A fine copy with very minor bumping to corners. Rarely seen thus. $1,200.
Cobbold, The Rev. Richard [1797 – 1877]. Cobbold, Robert Russell [1853 – 1925] -Former Owner. Valentine Verses, or, Lines of Truth, Love and Virtue. Ipswich: Printed and Sold by E. Shalders, 1827. 8vo. 9-1/4″ x 5-5/8″. 1st edition (NCBEL III, 717; Sadleir 575; Wolff 1286). SIGNED by Robert Russell Cobbold on the half-title page. xv, [1 (blank)], 243, [1 (blank)], 241* – 244*, 245 – 262 pp. Errata slip tipped-in at rear. Untrimmed. Green linen cloth spine over drab paper boards, with printed paper title label to spine. Cocked. Rear joint cloth starting, with evidence of an old repair attempt. Bookplate of R W Lamb. A Very Good copy. Much influenced by his late mother's interests and charitable impulses, Cobbold published Valentine Verses to benefit her favourite charities, but he came to be embarrassed by the critical reception of both poems and pictures. He is best known [today] for his novel The History of Margaret Catchpole [1845]." [ODNB]. Frontis, 2 copperplate portraits and 101 inserted lithographic plates [one folding] from drawings by the author. $375.
Herrick, Robert. Love's Dilemmas. Chicago: H. S. Stone and Company,. 1898. Title page printed in red and black, original pictorial tan cloth printed in orange and brown, t.e.g., other edges untrimmed. Cloth just a bit dusty, mostly rear cover, a near fine copy. Binding. Designed by Will Bradley. (#113281). First edition. Wright (III) 2653. Kramer 180. $100.
Warhol, Andy. Love. St. Louis: Lococo Fine Art, 2008 2008 Warhol catalogue "presenting never-before-exhibited original collages and graphite drawings of the'Love' series". A bright, Near Fine copy in its pictorial wrappers, with very light soiling along the rear panel. Tall quarto, also includes an interview with Vincent Fremont, the agent for the Andy Warhol Foundation for the Visual Arts. First Edition. Original Wraps. Collectible; Fine. $100.
Lie, Jonas; Mrs. Ole Bull. The Pilot and His Wife, A Norse Love Story. Chicago: S. C. Griggs and Company. 1876. First printing. Hardcover. Good. First edition, 1876. Cloth hardcover with gilt titles, 336 pp. + ads., illustrated with a frontispiece, clean unmarked text, Good copy, inner hinges a bit strained, soiling and discoloration to the page-edges, some rubbing and wear to the tips and edges of the covers including some fraying and minor loss at the tips, no dust jacket. Uncommon. $100.
Garrett, Edmund Henry, 1853-1929 ed.; Lang, Andrew, 1844-1912.Elizabethan Songs "in Honour of Love and Beautie." Boston : Little, Brown and Co., 1891. xxxi, 178 p. illus. 23 cm. ; white cloth with ornate decorations in gold, top edge gilt ; edges untrimmed ; covers faded and soiled ; 21 full-page illustrations with tissue guards, 6 illustrations in. sepia ; introduction by Lang ; Gr. $95.
Segal, Erich. Love Story. 1971. Fine. New York: Harper and Row, [1970]. Copy editor's duplicate page proofs, galley format, 131pp. Measuring approx. 7 1/2″ x 24″; loose, as issued, and folded, as is customary. Included herein is a loose sheet of Harper and Row stationery bearing the holograph note "Love Story / dup. page proof". "Copy Editor" also appears in pencil across the top of the title page sheet. This set of galley proofs is near fine and shows only minor curling at the sheet ends, as is usual in this format. $360.
---
Ephemeral
Stonebraker, Florence. The Love Doctor. NY: Stanley Library. Very Good. 1959. Paperback. #SL70. Toned pages, light edge and surface wear. Flat uncrease spine, photo on cover by Charles Kell. $25.
Farley, Robin. Mia: The Sweetest Valentine. Harper Festival, 2012. Paperback. New/None Issued. Preparing a special party to celebrate Valentine's Day, Mia, Anna and Ruby decorate with streamers, balloons and valentines while Mia shares a box of chocolates she has found with her friends, only to discover that the chocolates were actually a gift for her mother. Original. 40,000 first printing. $16.40.
Darling and Company. Valentine Postcards. Laughing Elephant, 2004. Novelty. New/None Issued. $21.10.
Vintage Valentine with Boy Holding Heart. N.D. Ephemera. Very Good; Vintage Valentine With Boy Holding Heart. I Love You This Much Dear. Valentine is 3 1/2″ high and 3 1/2″ across. Very good condition, slight wear at edges. $8.
More Valentines and vintage cards available from Gibson's Bookshere.
Morrison, Nellie and Alice Nadine Morrison. Love's Ship Chicago, Illinois: Forster Music Publ, 1920. Composer: Alice Nadine Morrison, 8pp. Name inked at top, crisp, clean. Very Good Plus. Illus. by Helen Van Doorn Morgan. 9-1/4″ x 12-1/4″. $25.
---
Fiction Picks
Click on the links to browse and buy multiple copies of our fiction picks for Valentine's Day!
Fleming, Ian. From Russia with Love.
McEwan, Ian. First Love, Last Rites
Marquez, Gabriel Garcia. Love in the Time of Cholera
Phillips, Jayne Anne. Sweethearts
Carter, Angela. Love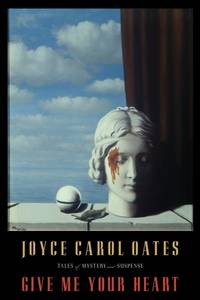 Oates, Joyce Carol. Give Me Your Heart: Tales of Mystery and Suspense
Matson, Clive. Mainline to the Heart