How to tell if a signature is genuine
Author's signatures can undoubtedly increase the value of a rare book or first edition. The more scarce the book is, the more an autograph adds to its value. But how to tell if the signature is real? Find out how you can avoid common pitfalls in identifying an author's signature.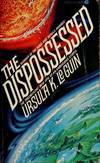 Collecting Nebula Award Winners of the 1970s
The Nebula Award has been awarded to stories in the Science Fiction and Fantasy genre every year since 1966. Learn about the winners of the 1970s!