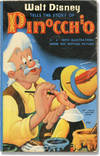 Collecting Disneyana
Welcome to the wonderful world of collecting Walt Disney! From letters signed by Disney himself to classic children's books or ephemera, be sure to check out some of the collectible Walt Disney books on Biblio!
Using and Collecting Bookmarks
Bern Marcowitz warns against paperclips and other inappropriate page-savers, and offers a bit of advice on using and collecting bookmarks.