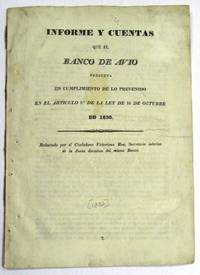 Click for full size
FOUR MEXICAN GOVERNMENT BANKING TITLES: INFORME Y CUENTAS QUE EL BANCO DE AVIO PRESENTA EN CUMPLIMIENTO DE LO PREVENIDO EN EL ARTICULO 9 DE LA LEY DE 16 DE OCTUBRE DE 1830
by [Mexican Banking and Treasury]
Book Description
n.p., n.d.. 16, [8] pp. Light dustsoiling and spotting of title page. Very Good. [offered with] MEMORIA DEL SECRETARIO D...
---
Title: FOUR MEXICAN GOVERNMENT BANKING TITLES: INFORME Y CUENTAS QUE EL BANCO DE AVIO PRESENTA EN CUMPLIMIENTO DE LO PREVENIDO EN EL ARTICULO 9 DE LA LEY DE 16 DE OCTUBRE DE 1830
Author: [Mexican Banking and Treasury]
Quantity available: 1
Binding: Hardcover
Place: n.p.
Date published:

n.d.