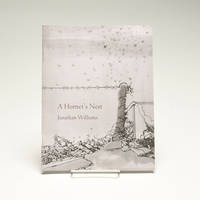 Click for full size
A Hornet's Nest
by Jonathan Williams
Edition: First
Book condition: New
Book Description
Jargon 108.
A compilation printed on the occasion of a celebration of Jonathan Williams' life at Skywinding Farm, Happy...
Title: A Hornet's Nest
Author: Jonathan Williams
Book condition:

New

Edition: First
Binding: Paperback
Publisher:

The Jargon Society & Green Finch Press

Place: Highlands and Chapel Hill, NC
Date published:

June 1, 2008
We have 1 copies available starting at $25.00

Williams, Jonathan, compiled by Jeffery Beam
JARGON 108 / Green Finch Keening 71, 2008. First edition. SIGNED by Jeffery Beam. As new and bright tall illustrated stapled wraps with crisp bright text throughout. Excellent compilation to the memory of the poet and publisher of Jargon Press, Jonathan Williams. Signed by the compiler poet Jeff...