The Great Formosa Hoax
George Psalmanazar played a grand prank in 1703, pretending to be a resident of the island of Formosa. His book took London by storm. Learn more...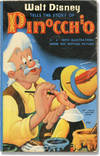 Collecting Disneyana
Welcome to the wonderful world of collecting Walt Disney! From letters signed by Disney himself to classic children's books or ephemera, be sure to check out some of the collectible Walt Disney books on Biblio!