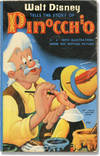 Collecting Disneyana
Welcome to the wonderful world of collecting Walt Disney! From letters signed by Disney himself to classic children's books or ephemera, be sure to check out some of the collectible Walt Disney books on Biblio!
The American Eclipse of 2017
The path of the total eclipse of August 2017 had our offices at 99% totality - we closed the office to go watch the spectacle, but first we put together this gallery inspired by eclipses to celebrate.