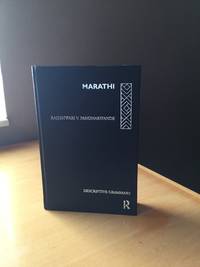 Marathi
by Pandharipande, Rajeshwari V
Edition:
1
Book Condition:
As New
Book Description:
Excellent hardcover, first edition, as new. Shipment of second, third, etc. items at very low prices. Check our full invento…
We have 2 copies available starting at $14.81

Published:

2009

Edition:

First edition

ISBN:

8189884689

Bookseller: Sanctum Books
Cambridge University Press/ Zubaan Publications, 2009. First edition. Hardcover. New. While women`s language, women`s writings, and women`s views about the world we live in have all been the focus of much debate and study, this book explores the translation of these experiences and these writin…

Rajeshwari V. Pandharipande
Published:

2010-10-04

Condition:

Used: Good

ISBN:

0415591481

Bookseller: Ergodebooks
Routledge, 2010-10-04. Paperback. Used: Good.