REINFORCEMENT LEARNING: AN INTRODUCTION (ADAPTIVE COMPUTATION AND MACHINE LEARNING SERIES) by Richard S. Sutton
by Richard S. Sutton
Similar copies are shown below.
Similar copies are shown to the right.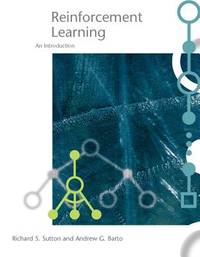 Stock Photo: Cover May Be Different
REINFORCEMENT LEARNING: AN INTRODUCTION (ADAPTIVE COMPUTATION AND MACHINE LEARNING SERIES)
by Richard S. Sutton
New/New. Brand New Original US Edition, Perfect Condition. Printed in English. Excellent Quality, Service and customer satisfaction guaranteed!
We have 11 copies available starting at $27.65.