Where can I get my book appraised?
Do you need to get an appraisal for a valuable book? This short guide from our Book Collecting Guide might help.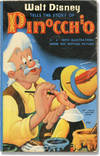 Collecting Disneyana
Welcome to the wonderful world of collecting Walt Disney! From letters signed by Disney himself to classic children's books or ephemera, be sure to check out some of the collectible Walt Disney books on Biblio!