Antiquariat Orban & Streu GbR
Search the inventory of Antiquariat Orban & Streu GbR
Browse all books from Antiquariat Orban & Streu GbR
---
About Antiquariat Orban & Streu GbR
As we also have a brick-and-mortar store, we would be pleased to welcome you there personally. Visit us in the centre of Frankfurt am Main in Germany. We sell books and records with emphasis - for 20 years. Of course we are happy to give you further information in English and pictures for every single item.
Terms of sale for Antiquariat Orban & Streu GbR
General Terms and Conditions ('AGB'): www.orbanundstreu.de/agb_orbanundstreu.pdf
About Data Protection / (Datenschutzerklärung): www.orbanundstreu.de/datenschutz.htm
With any further question please contact: Ines Streu or Thomas Orban. Mail to info@orbanundstreu.de or call 0049 69 94415570.

Payment methods accepted:
---
Browse Antiquariat Orban & Streu GbR by category
Antiquariat Orban & Streu GbR specializes in Science Fiction, Twentieth Century Books
---
---
Store Hours
Monday
10:00 AM - 8:00 PM
Tuesday
10:00 AM - 8:00 PM
Wednesday
10:00 AM - 8:00 PM
Thursday
10:00 AM - 8:00 PM
Friday
10:00 AM - 8:00 PM
Saturday
10:00 AM - 6:00 PM
Sunday
Closed
---
Rare Books from Antiquariat Orban & Streu GbR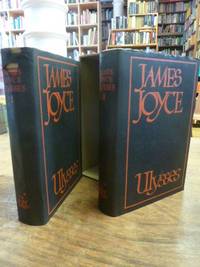 Ulysses - 2 Bände (alle), by Joyce, James
€180.00
George Condo: Mental States = Seelenzustände, by Condo, George / Ralph Rugoff (Hrsg.)
€180.00
Der Weltteil Australien, 4 Teile in einem Band (= alles), by Australien / Jung, Karl Emil
€200.00