Model Books
from Artem / Rare Books
New Arrivals
by Thomas Chippendale (1718-1779); Matthias Lock (1710-1765).
Seller

Published

1830

Edition

FIRST EDITION

Item Price
Show Details
Description:
English Rococo furniture models [London, John Weale, ca. 1830]. Folio (33x26 cm.). 24 leaves with 24 numbered engraved plates. Green morocco with gilt title on spine. Large model book for carpenters giving designs for highly rococo tables, mirrors, chimney-pieces, and cartouches. The designs were made by the two leading artists in mid-18th century wood carving and design: Thomas Chippendale and Matthias Lock. This…
Read more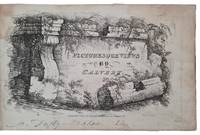 by Frederick Calvert (Cork 1793-1852).
Seller

Published

1823

Edition

FIRST EDITION

Item Price
Show Details
Description:
Calvert's rarest print album London, Hodgson & Co, 1823. Oblong 4° (24 x 16,5 cm.). With 24 soft ground etched plates and title. Original publisher's half morocco with printed front cover. With original tissue guards. Very rare plate album by Irish landscape painter Frederick Calvert, complete with 24 "picturesque views" and in the original binding. Calvert moved to England in 1815 and, besides…
Read more