World War Ii
from BOOKLOVERS PARADISE
New Arrivals
Seller

Published

1975

Condition

Fine in Plastic

Edition

First Edition.

Item Price
Show Details
Description:
340 pp incl index, unit index, bibliography and annotations. Fold out map at rear. Photographs and Maps in b+w. Clean and tightly bound with no inscriptions or annotations.

Seller

Published

1991

Condition

Very Fine in Plastic

Edition

First Edition

Item Price
Show Details
Description:
Johannesburg.: Ashanti., 1991. Miniscule wear at head and tail. Un-read. Illus eps; 356pp incl index; b&w photos thru'out text.. First Edition. Fine in Plastic/Very Fine.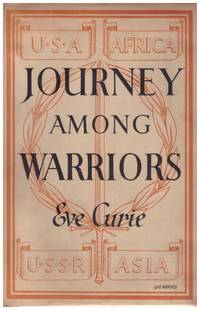 Seller

Published

1943

Condition

Fine in Plastic.

Edition

First Edn. 2nd Imp.

Item Price
Show Details
Description:
London: Heinemann., 1943. Dj is evenly browned; closed tears 8, 1.5, 1.5mm; closed chip 9x2mm. Book is slightly bumped on lower edge. Maps as eps, 522pp incl index. Signature of A Lubowski (Anton ?). anti-apartheid activist,. advocate and Sec General of SWAPO. Assasinated 12th Sept in Windhoel, Namibia... First Edn. 2nd Imp.. Hard Cover Black Cloth.. Fine in…
Read more