American Poets
from G.Gosen Rare Books & Old Paper, ABAA, ILAB
New Arrivals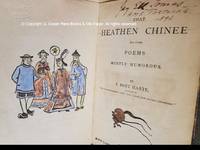 Seller

Published

[1871]

Edition

First issue, English edition

Item Price
Show Details
Description:
Harte, F. Bret, That Heathen Chinee and Other Poems Mostly Humorous. By F. Bret Harte, Author of "The Luck of the Roaring Camp" and "Sensation Novels Condensed." London: John Camden Hotten, 74 & 75, Piccadilly, [1871]. Savill, Edwards and Co., Printers, Chandos Street, Covent Garden. 17 cm. First English edition, first issue, with the misprint on line 14, p. 126:…
Read more
by Longfellow, Henry Wadsworth
Seller

Published

July 9, 1855

Edition

Manuscript

Item Price
Show Details
Description:
Henry Wadsworth Longfellow, Autograph letter dated July 9, 1855, signed "Henry W. Longfellow," 2 pages, on sheet, ink on paper, regarding forwarding of his "illustrated papers" to him at Newport, Rhode Island, where he was spending the summer. Fine.