New Arrivals
Seller

Published

1967

Edition

First Edition

Item Price
Show Details
Description:
New York: Hafner, 1967. First Edition. First Edition. Two volumes. Numbers 22 (Patterns and Configurations) and 23 (Mathematics of Experimental Design) of the "Griffin's Statistical Monographs and Courses" series, edited by Alan Stuart. Addresses abstract algebra, configurations, block designs, Latin squares, and other subjects. Each volume includes solutions to problems, a bibliography, and an index. Moderate foxing…
Read more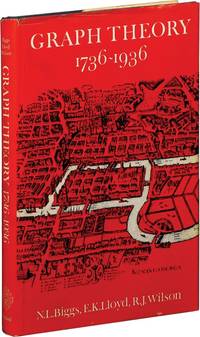 by Biggs, N. L, E. K. Lloyd, R. J. Wilson
Seller

Published

1977

ISBN

Item Price
Show Details
Description:
Oxford: Clarendon Press / Oxford University Press, 1977. Second printing of this edition. Collects over thirty extracts from original writings of mathematicians who helped pioneer graph theory. Includes biographical and bibliographical information. Jacket illustration of a seventeenth-century map of Konigsberg. Very Good plus in a Very Good plus dust jacket. Binding slightly cocked, faint foxing…
Read more

Seller

Published

1962

Item Price
Show Details
Description:
Reading, MA: Addison-Wesley Publishing, 1962. Second printing. About Fine lacking dust jacket. From the library of distinguished phiolosopher George Farre, with his owner name on the front endpaper, else Fine. An attractive copy.