Available copies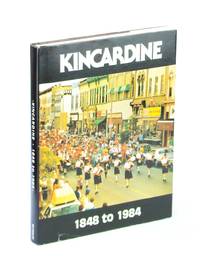 Seller

Published

1982

Condition

Very Good

Edition

First Edition

ISBN

Item Price
Show Details
Description:
Kincardine, Ontario: Kincardine Historical Book Committee, 1982. Book. Very Good. Hardcover. First Edition. 4to - over 9¾" - 12" tall. vi, 370 pages. Bibliography. Index. Profusely illustrated with sepia-toned reproductions of archival photos, plus several in colour. Illustrated endpapers. "The first Kincardine pioneers are gone. As the second and third generations of descendants become…
Read more

by Reynolds, John C. (Ed.)
Seller

Published

1982

Condition

Near Fine +

ISBN

Item Price
Show Details
Description:
Owen Sound, Ontario, 1982. Hardcover. Near Fine +/No Dust Jacket. A well-illustrated history of the Lake Huron, Ontario town. Topics include the beginning of the town, the harbour, the railway, the council, religion, education, industry, the military, the main street, recreation, guiding and scouting, service clubs, town bands, people, events, etc. Brown leatherette boards with gilt…
Read more

Seller

Condition

Used - Good

ISBN

Item Price
Show Details
Description:
Used - Good. Used book that is in clean, average condition without any missing pages.