Biblio.com to Assist BiblioWorks in the Next Chapter of its History
Biblio.com announces its continuing commitment to supporting literacy and education in underdeveloped communities through a donation towards the construction of rural libraries in South America.
Asheville, NC (PRWEB) September 27, 2007 -- Internet book marketplace Biblio.com announced today that it is continuing its commitment to literacy and education through a $15,000 donation and a pledge to provide material support to BiblioWorks, a non-profit organization which provides opportunities in literacy and education to some of the world's poorest regions.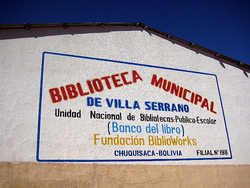 Starting with the opening of Biblioteca "Villa Zamora" in Bolivia, BiblioWorks has worked with a wide variety of public and private organizations to establish and maintain six community libraries in the Chuquisaca region of Bolivia, one of the poorest regions on earth. Bolivia was rated 115th in the 2006 Human Development Index (HDI) released by the United Nations, scoring even lower than countries like Indonesia, Vietnam, and Jamaica.
"Bolivia is, unfortunately, one of the more over-looked regions of the world when it comes to humanitarian aid. There are some terrific organizations at work in Bolivia, but the need for education and literacy as a sustainable solution to poverty remains sadly underserved," says Allen Singleton, President of Biblio Charitable Works. "We are proud to be working with the people of Bolivia to develop libraries and programs to promote education and literacy."
In addition to its work in libraries, BiblioWorks has partnered with the US Embassy in La Paz and Bolivia's Banco del Libro to donate and distribute books, computers, and educational materials to a number of schools in Chuquisaca. It has also remained active in its hometown of Asheville, North Carolina and surrounding Western North Carolina region. Through its local literacy projects, BiblioWorks has donated books to homeless shelters, prisons, and to the Asheville Buncombe Education Coalition.
Biblio.com's donation will directly support BiblioWorks in the construction of an additional library in Bolivia in 2008, as well as support the sustainability of existing programs and projects both in Bolivia and in the U.S. Biblio.com has also volunteered the use of some of its warehouse space and resources for the coming year to BiblioWorks to facilitate the shipping and receiving of donations such as books and educational supplies.
"As a company, we have been committed to social responsibility and accountability to a triple bottom line since the very beginning," says Brendan Sherar, CEO of Biblio.com. "Our ongoing support of BiblioWorks has been an enormous part of the fabric of our company's vision, and we are truly honored to have an opportunity to help BiblioWorks in the coming year as it continues to open new chapters in its short but powerful history."
About Biblio.com:
Biblio.com is one of the world's leading sources for textbooks, used books, and rare books. Established in 2003, Biblio.com has grown to become one of the largest global book marketplaces, with over 50 million books for sale from 5500 bookstores and booksellers in countries around the world. Biblio.com is wholly owned and operated by Biblio, Inc., a privately held company with a commitment to a triple bottom line, in part through its work with Biblio Charitable Works, Inc.
About BiblioWorks:
Biblio Charitable Works, Inc. is a public 501c3 non-profit organization, founded in 2005 with the mission of providing communities in need with tools and resources to develop sustainable literacy and education programs through funding, books and material donations for schools, libraries, and cultural institutions. Since its inception, BiblioWorks has worked in both Bolivia and the United States to create opportunities for literacy to communities and groups in need. For more information about BiblioWorks, including opportunities for donors and volunteers, visit www.biblioworks.org online.
###
Contact: Brendan Sherar, Biblio.com
E-mail:
Phone: 828 350 0744 ext 132
Contact: Allen Singleton, BiblioWorks
E-mail:
Phone: 828-239-0271