Online Book Shopping Goes Greener
Biblio.com announced today that it has launched a program to offset the carbon emissions of the shipment of every book sold through its site, making it the first major book marketplace in the world to become carbon neutral.
Asheville, NC (PRWEB) October 8, 2007 -- Biblio.com, one of the world's leading marketplaces for new, used, and rare books, announced today that it has launched a program to offset the carbon emissions of the shipment of every book sold through its site, making it the first major book marketplace in the world to become carbon neutral.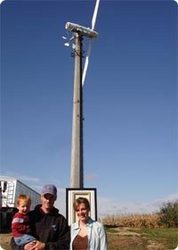 The new program is called " ecosend ". It is being launched in partnership with NativeEnergy, a privately held Native American renewable energy company, and will provide funding for wind turbines and farm methane energy projects in Native American communities and on family farms throughout the U.S. These projects not only provide clean, renewable energy but also play an important role in sustainable economic development for tribal communities and farm families.
"We did extensive research to find the best carbon offset partner we could. NativeEnergy's commitment to projects that provide both verifiable CO2 reductions and sustainable economic benefits for communities in need was compelling," commented Allen Singleton, Biblio.com Chief Operating Officer.
NativeEnergy has extensive partnerships with leading environmentally responsible businesses, including Mohawk Paper, Stonyfield Farm, Clif Bar, and Ben & Jerry's. "Others are sure to follow Biblio.com's lead, reduce their environmental impact first, and then offset their remaining carbon footprints with high quality carbon offsets from new projects they actually help to get built," says NativeEnergy president & CEO, Tom Boucher.
In addition to offsetting the carbon impact of each shipment, Biblio.com will also offset all of its business operations, including power consumption on server equipment, business travel, and employee commuting. "While we view carbon offsets as a part of an overall strategy to ensure that our business does not harm the environment and the climate," says Biblio.com CEO Brendan Sherar, "we also recognize that reducing our carbon footprint is far more important than offsetting."
Understanding their carbon footprints encourages consumers to change their behavior and reduce carbon emissions. By making available over 50 million used books from independent booksellers worldwide, Biblio.com plays a vital role in facilitating the sale, purchase and resale of used books. The Green Press Initiative calculates that the US book publishing industry consumes 20 million trees per year.
Sherar notes that, "used books have always been a natural fit for our core values, since they represent an ideal example of re-using and recycling. We hope that our new program will serve as an inspiration to others in the book industry to take climate change seriously and find ways they can invest in the planet's future."
Biblio.com
Biblio.com is one of the world's leading sources for textbooks, used books, and rare books. Established in 2003, Biblio.com has grown to become one of the largest global book marketplaces, with over 50 million books for sale from 5500 bookstores and booksellers in countries around the world. Biblio.com is wholly owned and operated by Biblio, Inc., a privately held company with a commitment to a triple bottom line, through its work with Biblio Charitable Works, Inc. For more information, please visit www.biblio.com.
NativeEnergy
American Indian majority-owned, NativeEnergy is a national marketer of renewable energy credits and carbon offsets. By providing individuals and organizations both the means to compensate for their global warming pollution and also effectively power their homes and businesses with renewable energy, NativeEnergy helps build community based renewable energy projects that create social, economic and environmental benefits. Bringing upfront payment to renewable projects, NativeEnergy enables its customers to help finance the construction of new wind farms and other renewable energy projects, such as tribal wind projects and methane digesters on family dairy farms, which directly reduce our reliance on fossil fuels. NativeEnergy is the choice of leading environmentally and socially responsible organizations, including Al Gore's "An Inconvenient Truth" (www.ClimateCrisis.net), Ben & Jerry's, Clif Bar, Stonyfield Farm, Interface, Aveda, Green Mountain Coffee Roasters, Dave Matthews Band, Jack Johnson, Co-op America, NRDC, the Clinton Global Initiative, Bonnaroo, and thousands of individuals. Online at: www.nativeenergy.com.
Contact:
Brendan Sherar, Biblio.com
press @ biblio.com
(800) 813 9432
# # #