Available Copies
More Photos
Condition

Used - Very Good

Jacket Condition

Very Good

Published

1942

Binding

Hard cover

Quantity Available

1

Seller

Yarmouthport, Massachusetts,

USA

Item Price
Show Details
Description:
Farrar & Rinehart, 1942. hard cover. Very Good/Very Good. New York: Farrar & Rinehart. (1942). 356 pp. Hardcover w/ dust jacket. Dust jacket is worn down the spine with some small tearing on the edges but is otherwise in very good condition. There is a small bookseller's sticker along the bottom edge of the inside cover. Book is…
Read more

about this item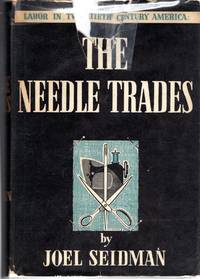 Condition

Used - Very Good

Jacket Condition

Very Good

Edition

1st

Published

1942

Binding

Hardcover

Quantity Available

1

Seller

Hagerstown, Maryland,

USA

Item Price
Show Details
Description:
NY: Farrar & Rinehart, 1942. 1st printing; dj w/tear and 1" paper loss on top edge, unclipped price, in mylar; red c w/gilt and black titles; slight toning of end papers; 356 clean, unmarked pages/index. 1st. Hardcover. Very Good/Very Good. 8 Vo.

Condition

Used

Binding

Hardcover

Quantity Available

1

Seller

Item Price
Show Details
Description:
New York: Holt, Rinehart & Winston 1970, reprint. (Hardcover) 356pp. Very good plus, no dust jacket. Bibliography, appendix, index. There is a previous owner's name on the front free endpaper and pencil markings in the first 20 pages of text. "There are no precise limits to the needle trades. Obviously, the industries engaged in…
Read more

about this item