Available copies
by Mehigan Gary; Calombaris George
Seller

Published

2010

Condition

Fine

Edition

First Edition

ISBN

Item Price
Show Details
Description:
Camberwell: Lantern/Penquin Books, 2010. 269 pages. Book and Jacket appear to have hardly been read and are both in Fine condition throughout. . First Edition. Hard Cover. Fine/Fine.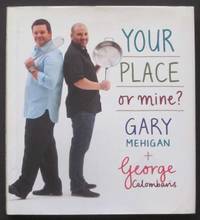 by Gary Mehigan; George Calombaris
Seller

Published

2012

Condition

Very Good

ISBN

Item Price
Show Details
Description:
Camberwell, VIC, Australia: Penguin Australia, 2012 The dust jacket has a little wear. The page edges are lightly foxed and tanned. 269 pages. Books listed here are not stored at the shop. Please contact us if you want to pick up a book from Newtown.. Hardcover. Very Good/Very Good.
by Mehigan, Gary; Calombaris, George
Seller

Published

2010

Condition

Very Good

Edition

Second Impression.

ISBN

Item Price
Show Details
Description:
Melbourne: Lantern, 2010. Second Impression. . Hardcover. Very Good/Very Good. 43 ingredients, 86 recipes. x,280pp, index, luscious photos.From our Masterchef judges. Size: Large square quarto