Space Out Paperback - 2005 - 1st Edition
by Sotirios Kotoulas
---
From the publisher
The experimental and partly realized work of Sotirius Kotoulas, an architect living in New York City, has often attracted attention in the USA, being written about and awarded prizes. He is, however, less well known in Eurpoe. He is presently working on a design for a house in Seriphos, Greece. Lebbeus Woods on Kotoulas work: " This is not an inhabitable site-specific architecture but one that is translatable, a numerical transference outside the material realm of building as an architecture about architecture.
First line
Necromancy. In his salon, Baron L. de Guldenstubbe evoked the dead to write with a pencil directly on a blank piece of paper.
Details
Title

Space Out

Author

Sotirios Kotoulas

Binding

Paperback

Edition number

1st

Edition

1

Pages

60

Language

ENG

Publisher

Springer, New York

Date

September 22, 2005

ISBN

9783211244883
About the author
SOTIRIOS KOTOULAS, born in Winnipeg Canada, educated in Architecture at The Cooper Union (1998 2003). He received the Abraham E. Kazan award for Urban Design Studies. He designed and followed the construction of a house for his family in Winnipeg (1996 2001). His work has been published in several architectural journals and broadcast on the CBC. His Forum House proposal with John Shimkus received the Prix du Public from the City Crossings competition. He is currently designing a house on the island of Seriphos, Greece. He lives in New York City.
More Copies for Sale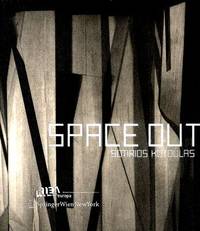 Stock Photo: Cover May Be Different
Condition

Used:Good

Edition

1

Binding

Paperback

ISBN 13

ISBN 10

Quantity Available

1

Seller

HOUSTON, Texas,

United States

Item Price
Show Details
Description:
Springer Vienna Architecture, 2005-09-22. 1. Paperback. Used:Good.