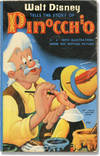 Collecting Disneyana
Welcome to the wonderful world of collecting Walt Disney! From letters signed by Disney himself to classic children's books or ephemera, be sure to check out some of the collectible Walt Disney books on Biblio!
RIP (Please) George Romero: Modern Master of Zombie Horror
George Romero co-wrote and directed Night of the Living Dead in 1968, a film that inspired the modern zombie craze and made an indelible mark on American cinema. Come this way, horror fan...