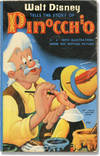 Collecting Disneyana
Welcome to the wonderful world of collecting Walt Disney! From letters signed by Disney himself to classic children's books or ephemera, be sure to check out some of the collectible Walt Disney books on Biblio!
Collecting Dr. Seuss
Whether you are into the pricey first editions or interesting Seussiana ephemera, this is a good starting point for building a book collection based on Dr. Seuss.