Collecting Aleister Crowley
Aleister Crowley was a well-known and highly controversial figure in the first half of the 20th Century. A writer, occultist, magician, and mountaineer, Crowley impacted a diverse collection of sub-cultures and interests. See collectible Crowley from Biblio booksellers.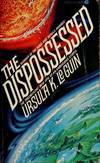 Collecting Nebula Award Winners of the 1970s
The Nebula Award has been awarded to stories in the Science Fiction and Fantasy genre every year since 1966. Learn about the winners of the 1970s!