Teaching to Transgress: Education as the Practice of Freedom by Hooks, Bell - 9/12/1994
by Hooks, Bell
Similar copies are shown below.
Similar copies are shown to the right.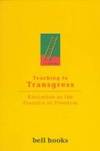 Stock Photo: Cover May Be Different
Teaching to Transgress: Education as the Practice of Freedom
by Hooks, Bell
Routledge, 9/12/1994. Paperback. Used - Good. Used - good condition. For mass produced books with mulitiple editions the book on hand may not be edition listed. Please reach out with any questions about condition or edition.
We have 23 copies available starting at $14.03.