Small
from Scraps of American History
New Arrivals
Seller

Published

1924

Condition

Fair

Edition

Seventh Edition

Item Price
Show Details
Description:
New York: Henry Holt And Company, 1924. Seventh Edition. Hardcover. Fair. 128 pages, revised in collaboration with the author by J. H. Reedy, illustrated with charts. The physics of elements. Tan cloth cover with black lettering on spine, charts on end papers. Heavy spotting of cover, edge wear, corners bumped, lettering faded, interior pages lightly tanned with a…
Read more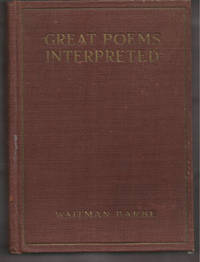 Seller

Published

1914

Condition

Good

Edition

First edition

Item Price
Show Details
Description:
New York: Hinds, Hayden and Eldredge, Inc., 1914. First edition. Hardcover. Good. 368 pages, contents and author biographies. English poetry with annotations and summaries and analysis. Poets include Milton, Dryden, Gray, Goldsmith, Burns, Wordsworth, Emerson and more. Red cloth binding with gilt lettering on front cover and spine. Gilt faded, especially on spine, light spotting, edge wear with…
Read more
by Teter, George E. M. A.
Seller

Published

1918

Condition

Fair

Edition

Revised

Item Price
Show Details
Description:
Chicago & New York: Scott, Foresman and Company, 1918. Revised. Hardcover. Fair. 452 pages with contents, index of titles, index of authors, and an appendix helps for study. Teter was head of the English Department in the Madison High School, Madison, Wisconsin. Blue cloth binding with black lettering on front cover and spine. Some spotting and marks on…
Read more