Available copies
by Jonas Mekas (editor) and George Maciunas (layout) and Stan Brakhage (text and photos)
Seller

Published

1963

Edition

First Edition

Item Price
Show Details
Description:
New York: Film Culture Magazine, 1963. First Edition. First Edition. This copy is INSCRIBED by Brakhage at the blank opposite his introduction to poet Kenneth Irby: "To Ken Irby / That I should meet "Roadrunner" here in these circumstances at this time of most wonderful day I take as the best of all possible signs / Stan Brakhage /…
Read more
Seller

Condition

Good

Item Price
Show Details
Description:
Film Culture. PAPERBACK. B000KVUV0I 1974, 344 pages, illus. b&w | covers show moderate to heavy wear; interior is clean and bright, free of name, notes etc | professional booksellers based in the UK | we package with great care and usually dispatch within 24hrs, always within two working days | please request scans or further information on any…
Read more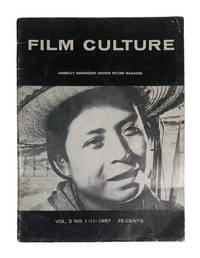 Seller

Published

1957

Condition

Good

Item Price
Show Details
Description:
NY: Film Culture, 1957. Soft cover. Good. 4to. 32pp. Staple-bound wraps. A good (+) copy, with moderate edgewear and soiling to wraps, with some softening and creasing at the corners. Contents clean and unmarked. Contributors include Jonathan Baumbach, Frank Kuenstler, Rodelf Arnheim, and others.