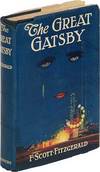 What are points of issue?
What exactly does it mean when book collectors and dealers talk about points of issue? Understanding what they are and when to look at them can be critical in developing your book collection and can help you avoid costly mistakes. Read more >>
Spend a Year with Fine Books
Now you can save 28% off the cover price when you subscribe to a year of Fine Books & Collections magazine on Biblio.