Sign In
|
Register
|
Help
Specials
Cart
0
items
Rare Books
What are rare books?
When we talk about rare books, we speak of books that have a limited supply. There's no one single determinant for scarcity. Some books are unique works, like original manuscripts or association copies. Others are considered scarce because the number of interested collectors exceeds the number of copies available on the market. These collections are hand-selected by Biblio's booksellers to represent the best and most interesting of their books from among the millions of titles available on Biblio. We invite you to explore the categories, and learn more about collecting books.
---
Newsletter Signup
---
Antiquarian dealers
Biblio is a marketplace made of thousands of the finest booksellers and bookstores in the world, all of whom come together to create an uncommonly distinctive marketplace for the discerning collector.
---
Bibliophiles' Club
Do you buy rare and collectible books online often? Join the Bibliophile's Club and save 10% on every purchase, every day!
---
Resources for collectors
---
In stock guarantee
We guarantee all books to be in-stock or you get 20% off your next order.
---
30 day return guarantee
Shop with confidence with our 30-day return guarantee.
Here within are found books rare and ancient, starting with the earliest printed works.
These collections will delight the collector and the financier alike, ranging the gamut of legal treatises to the history of economic thought.
---
Domestic pursuits and the books that enable them.
The fleeting captured for posterity...
---
That which defies categorization elsewhere...
Histories by region, by epoch and by war...
---
Sublime works of fiction, poetry and quality diversions...
Theology and theory...
---
Molocules and machines, computers and chemicals...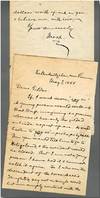 Autographs, endorsements and dedications in pencil and ink...
---
How we are who we are and how we became...
Games of sport, chance and other diversions...
---
Beauty expressed on canvas, paper, stage...
Opulent illustrations and elaborate bindings...
---
Adventure and expeditions...
---
Signed books
We have a terrific selection of autographed copies of all kinds of titles - millions, in fact - all waiting to be discovered. Be sure to check our our signed books section, where you'll find search tools and indispensable information on collecting signed books.
First editions
Sometimes unraveling the mysteries of first editions can prove confusing, not to mention trying to find collectible copies that suite your needs. Be sure to visit our page on first editions for more information and resources.