from Mary Riversong Books
New Arrivals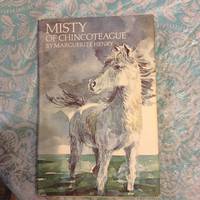 Seller

Published

1947

Condition

Very Good

Edition

Book Club Edition

Item Price
Show Details
Description:
059Misty Henry, Marguerite. Misty of Chicoteague. 1947 Random House Book Club Edition. Hardcover in original DJ. BCE. A Nice copy. VG/VG. Summary: "Misty of Chincoteague tells the story of Paul Beebe and his sister, Maureen, who live with their grandparents Clarence and Ida Beebe on Chincoteague Island. Paul and Maureen work on their grandfather's farm to help him train and…
Read more
Seller

Published

1994

Condition

Very Good

Edition

Stated First Edition

ISBN

Item Price
Show Details
Description:
Brandon, Marlo. Autobiography. Stated First Edition Thus. Number line starts with 2. Used. VG/VG- dust jacket. A nice copy.